Playing with Distress Oxides to create a vibrant background!
The Crafty Festival of Friends is doing another series of hops on all the social media platforms. This time it is a Festival of Fall, and the theme this week is Harvest Goodness. I love the variety of produce that emerges in the fall, such a feast for the senses! If you have a garden, you are probably up to your ears in yummy stuff that you now need to preserve. If you don't have a garden, you may be having garden envy, or fending off zucchini from everyone you know, lol!
The Friendship Farms stamps and dies from Concord and 9th are the perfect way to bring that fall vibe to life. I added the Woven Plaid background to this card for a warm touch. It is already cold here in northern Minnesota. The high today was 56! Much too early for this. But it is never too early for pumpkins and plaid!

You can watch me create this card from start to finish here.
The distress oxides made quick work of the stamping, with a rustic look. If you want a smoother look, use a dye ink and probably a MISTI for the best images.
The pumpkin was diecut from some cardstock I have in my stash that I had done ink smooshing with Carved Pumpkin and Spiced Marmalade. I plan to keep some available all the time, because it is amazing!

I did use a dye ink for the plaid stamping for a more subtle and crisp stamping. I made sure to dry the ink well with my heat tool before doing the copper heat embossing.

I had created larger than needed panels with my stamping, and used the leftovers inside the card. The cardbase is a cream speckled cardstock from my stash. If you have been stamping for a while, I am sure you have some version of this style cardstock tucked away. Autumn is the perfect time to pull it out, it adds a warm and cozy feeling to your projects. And there is something to be said about combing white and cream on a project.
The rest of the blog roll is at the end of this post, so don't forget to check it out.

If you are interested in the supplies I used, I have provided links below.

Some of the supplies listed below are affiliate links, some are not. If you use an affiliate link here to make a purchase, I may get a small compensation. I only use things that I love, and do not create paid posts.
Supplies: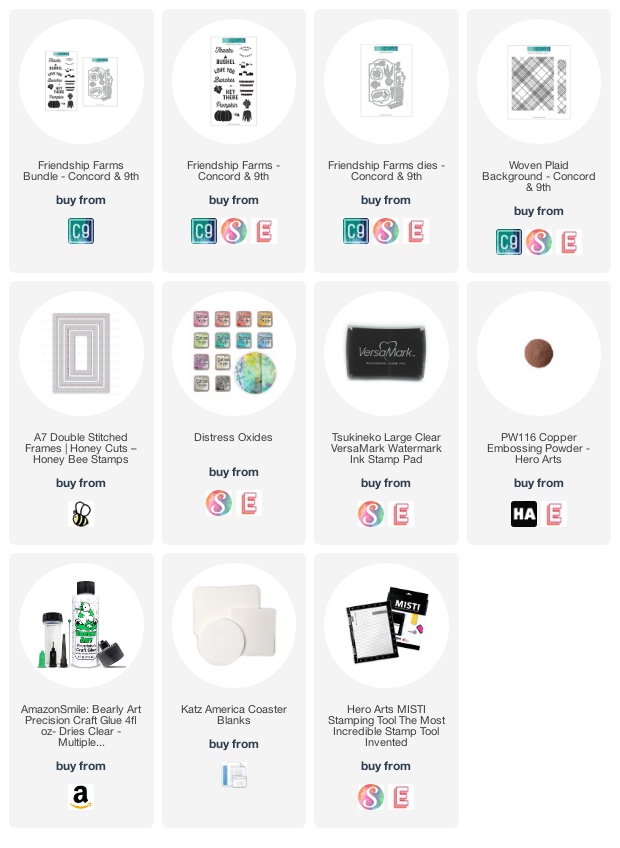 Blog Roll:
Tania Cordie blog