Hey Festival Friends!! This past Christmas, I decided to invite some crafty friends to join me in a Festival of Christmas with a themed limited run series of social media hops. It was so fun that we decided to do more limited run series!
And it is time for another one: For the Love of Summer. There are five episodes in this series, and this one focuses on the colors of summer. Lush and rich. Dewy even!
Summer is a time of blessed warmth, water, yummy fruit, and gardens. Let's see where this inspires us to go!
I went a little bananas, or shall we say pineapples, with this challenge! One day, I felt like making some pineapple themed cards. So I gathered all of my pineapple related stamps, and got to work.
This floral pineapple is from Concord and 9th Pineapple Perfection, and I adore it! I really love fresh pineapples, too. And there are coordinating solid image stamps so you can quickly color in the whole pineapple. But you also have the option to color them with your favorite coloring medium. For this card, I used the stamps with Distress Oxide inks.
This sentiment is from Picket Fence Studios. I had been looking for a good stamp with a phrase something like this for a while, and when I found this one, I had to have it.
That background is one of many that I created with a Carved Pumpkin Distress Oxide ink pad that my grandson reinked with Spiced Marmalade. I actually love the way that this ink pad creates smooshed backgrounds without any special effort. Just smoosh the inkpad onto my craft mat, spritz with a little water, and start smooshing paper into it. Dry between layers, and you get this awesome effect.
I added a pop up element using the Pivot Pop Up dies from Lawn Fawn, more pineapples from Concord and 9th Pop Art Pineapple, and a sentiment from the Ink Road Stamps: This Stamp is Bananas.
This card has a smoothly blended background and a similar pineapple.
This one uses an embossing folder from Scrapbook.com that is 6x8, perfect for making 5x7 cards.
I love how the diamond pattern on this embossing folder looks like the outside of a pineapple.
So, I hope this lush floral in the shape of a pineapple has inspired you to go play with your stash!
If you are interested in the products I used in these products I have included links to them below.
You will find links to rest of the hop at the end of this post.
Some of the supplies listed below are affiliate links, some are not. If you use an affiliate link here to make a purchase, I may get a small compensation. I only use things that I love, and do not create paid posts.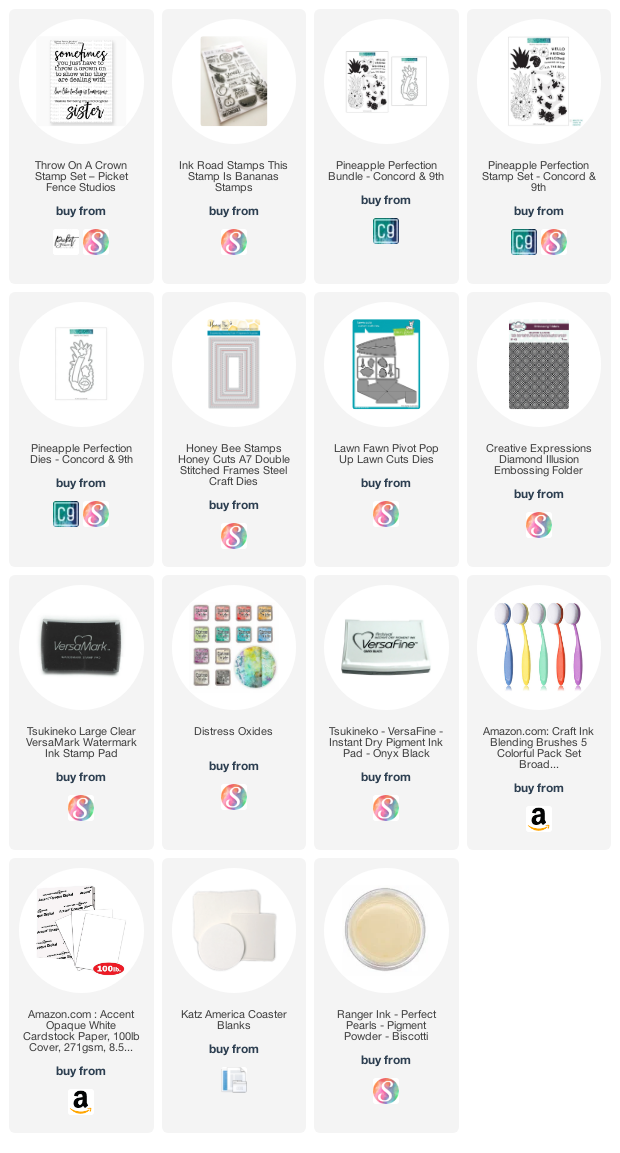 Blog Roll:
Tanya Boser- that's me!
Instagram Roll:
Adam Karle