Hey Festival Friends!! This past Christmas, I decided to invite some crafty friends to join me in a Festival of Christmas with a themed limited run series of social media hops. It was so fun that we decided to do more limited run series!
And it is time for another one: For the Love of Summer. There are four episodes in this series, and this one focuses on Sweet Summertime.
Summer food. So many yummy things, so many fun ways and places to eat. This is about ice cream and watermelon, grilling on the deck, picnics, bonfires and s'mores, outdoor seating at your favorite eatery, and homemade pies. Who's hungry?
I pulled a video together for this card, can you believe it?!!
I had totally planned to make a s'mores card for this event. I even bought s'mores shaker bits! But then Sassy and Crafty released this stamp set! I mean, come on. I had to use this!
There is also this awesome Hearts stencil that I had to play with. The big panel was inked with Hero Hues Reactive inks in Fruit Punch, Creamsicle, and Taffy, then laid the stencil over the background and inked over top with the same colors.
The smaller panel is the same stencil over a white panel and inked with the blender brushes that I used for the darker panel, without adding more ink.
I have always tried to have diverse people in my projects, and in support of the Black Lives Matter, I am going to be a little less diverse. All of the people I color for the near future will be black 😁 Representation matters, y'all!
Hey, you should be impressed. I remembered to write down what Copic colors I used! Here are the colors:
Hair: T3, T5, T7
Skin: E33, E35, E39
Yellows: Y19, Y38
Orange: R12, R08
Red: R27, R37
Chocolate: E25, E27
Cone: E33, E35
This embossed sentiment is bold and beautiful, and just screams to be used with the Brutus Monroe Night Shift embossing powder. This is the Gold Night Shift. It looks black when you look at it straight on, and looks gold when you shift it in the light!
The Glass Beach embellishments add the perfect touch!
I have been obsessed with using stencils inside cards to highlight the sentiment area lately, and this is no different.
You will find links to rest of the hop at the end of this post.
If you are interested in the supplies I used, I have provided links below.
Some of the supplies listed below are affiliate links, some are not. If you use an affiliate link here to make a purchase, I may get a small compensation. I only use things that I love, and do not create paid posts.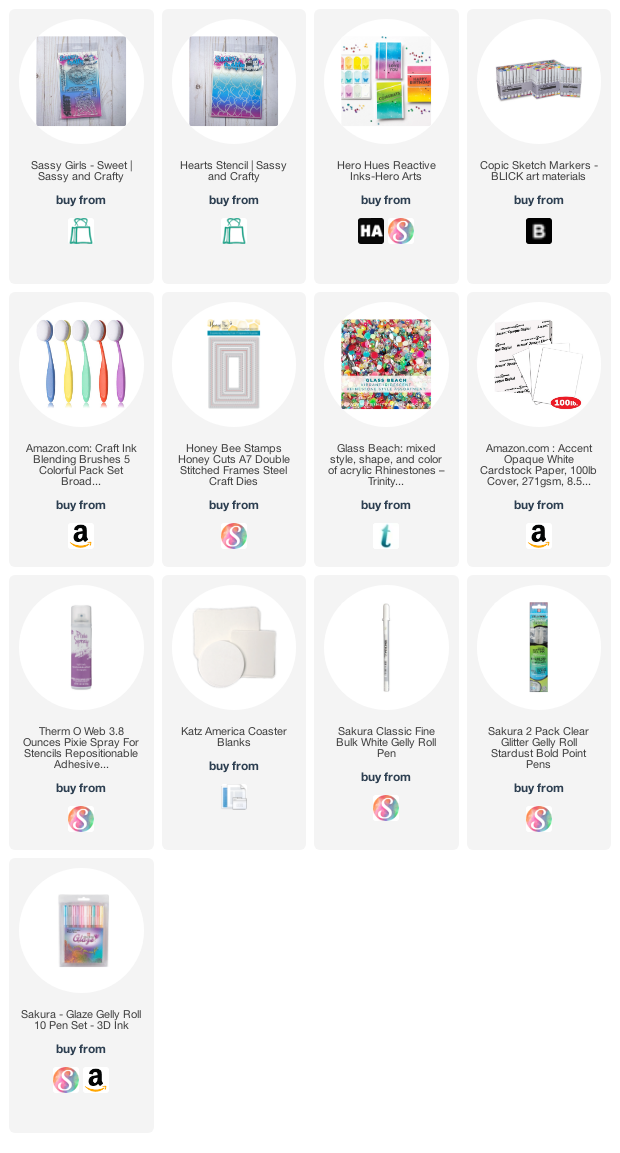 Blog Roll: