Hey Festival Friends!! This past Christmas, I decided to invite some crafty friends to join me in a Festival of Christmas with a themed limited run series of social media hops. It was so fun that we decided to do more limited run series!
And it is time for another one: For the Love of Summer. There are four episodes in this series, and this one focuses on our Chill Zones.
To those places where we find our zen- the beach, ocean, lake, cabin. Stargazing, beer drinking, napping in a hammock. Toes in the water, ass in the sand- style!
Sounds like heaven to me :)
The ocean is definitely a favorite chill zone for me. We have gone on many cruises, and love the Caribbean. Someday, when all this Covid stuff is over, we hope to do it some more!
This card has three kinds of embossing powder, all from Hero Arts. The waves use Blue Pearl embossing powder, which came in a My Monthly Hero kit. I am lobbying for it to return as a permanent product! I need more of it!
Next is White Satin Pearl on the shore line, and then White Puff on the clouds.
Look at those puffy clouds over the Tumbled Glass ink blending!
There is a pop-up surprise inside. I love a card that just keeps on giving! This is a 5x7 card, which I am completely in love with. Bigger is better, right?!
I can't stop looking at the blue pearl embossing powder! It is not a detail powder, so the embossing is thick and luscious.
I do live in lake country, and there are 7 lakes within a 5 minute drive of my house. And there are dozens more within an hour of my house. While this scene is not outside my actual back door, it is available very close. Nothing beats a day at the lake shore.
The white puff embossing powder adds a nice touch to the mountain caps here.
And the blue pearl adds a sheen I was not quite able to capture on camera.
Now, don't you want to do jump in a lake right now?!
The rest of the blog roll is at the end of this post, so don't forget to check it out.
If you are interested in the supplies I used, I have provided links below.
Some of the supplies listed below are affiliate links, some are not. If you use an affiliate link here to make a purchase, I may get a small compensation. I only use things that I love, and do not create paid posts.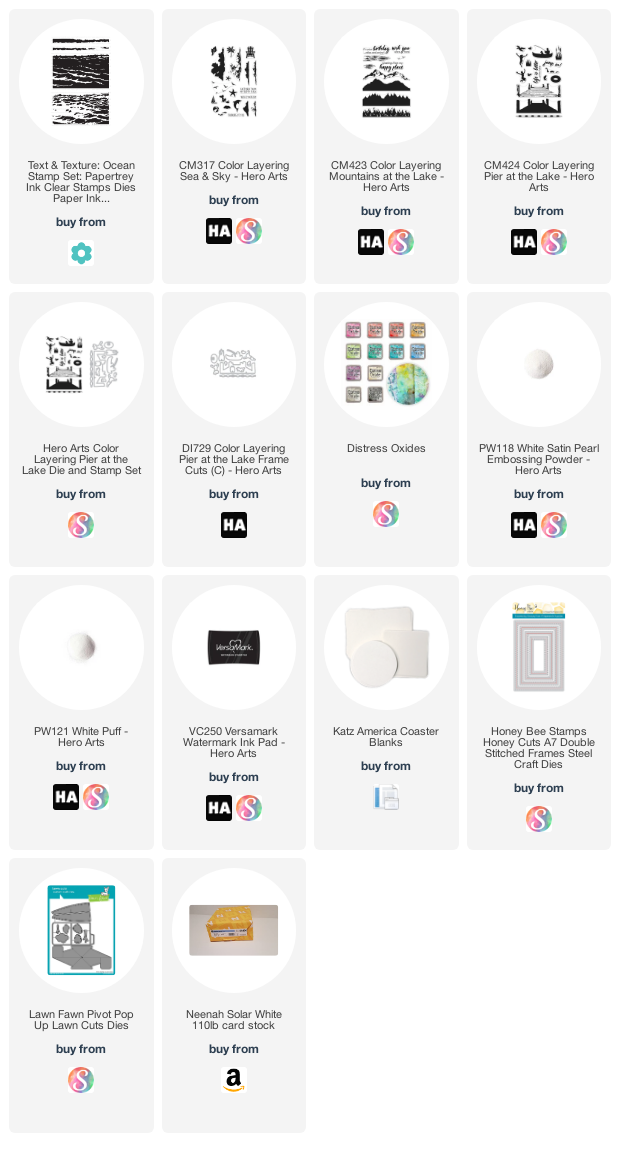 Blog Roll:
Tania Cordie
Tanya Boser- that's me!
Justin Averill
Instagram Roll:
Adam Karle
Tanya Boser
Joe Hux
Justin Averill